Aoki Laboratories Ltd.
Creating a
Better Future
Founded in 1994, Aoki Laboratories Ltd. is a solder alloy manufacturer and a distributor of the high purity soldering accessories and related soldering & cleaning chemicals.
Shortly after the establishment, Aoki capitalized on its research and development capability and has become the agent of Japan's topnotch soldering products producer, Tamura Corporation. Aoki is responsible for distributing Tamura's soldering materials throughout Southern China region & in Hong Kong. Aoki's size was further enhanced with a 30,000 square feet factory in PingHu, Shenzhen, China, in 1997.
As an ISO9001 accredited company, Aoki's solder products consistently meet and exceed industry standards. The company put tremendous efforts on R&D works, as a result, we are recognized as a technological innovator that supplies advance and high quality products. Moreover, Aoki is also considered an environmental friendly have introduced a full line of green line products company, including: ( lead-free solder, environmental friendly solder flux, non-CFC cleaner) and the green manufacturing machineries include: (lead-free Wave Soldering machine, lead-free SMT Reflow machine and corresponding production equipments, etc.). Aoki solder products have won the "Innovation knowledge Enterprise Award 2006 from Hong Kong Productivity Council / Guangdong Provincial Intellectual Property Office. Our products have awarded the ISO14001 environmental management system certification and TS16949 automotive quality management system certification in 2014.
Aoki maintains both the R&D and manufacturing facilities in Hong Kong, as well as production facilities in PingHu, Shenzhen, China. We distribute the Tamura Corporation's product line throughout this same region.
We welcome any OEM order from you. Should you have any inquiries, please feel free to contact us.
Our Mission and Goal
Our Mission is to take pride in being a global manufacturer and supplier of the electrochemical and solder materials used in the electronic assembly process, which consistently meets and exceeds industry standards. Our Goal is to realize this vision through providing excellent customer services, and high quality products at competitive prices.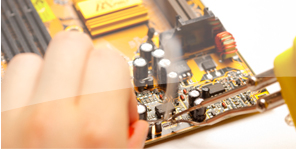 Our Service
Aoki strives to offer excellent products. The ever changing advance electronic technologies and the environmental rules and regulations pose challenges to our customers. Aoki takes these as opportunities for ourselves and our customers. Adhering to the principle of "Quality Ensures Survival", Aoki seeks to cooperate with all of our partners to our customer as partners to accomplish the goals.
Our Quality Targets are listed, as follow:
A genuine desire to excel at solution-based customer services
Innovative products, designed to meet the changing demands of industry and the environment. Competitive pricing.
Complimentary professional technical support (on-site, by telephone, email or fax)
Complimentary Solder Analysis Service twice a year
Manufacturing to meet ISO 9001 standard
Express delivery service
Our Product
Aoki Product
Pure Tin – Ingot, Bar, Anode, Anode Ball
Lead-Free Solder – Bar, Wire, BGA Ball, Powder
Enviro Cleaner – PCB Cleaner, Stencil Cleaner, Label Remove
Shell Chemical Product
Tamura Corporation Product
Electrochemical materials

Lead-Free Solder Paste
Solder Flux
Preflux
OSP
Solder Resist
HDI Adhesive Film
Conductive Adhesive

Manufacturing Machinery

Reflow Soldering System
Wave Soldering System
Soldering Bath
Spray Fluxer
Solder Paste Printer
Solder Bumping System
Solder Print Inspection System