We obtained ISO9002 certification in August 1998 and successfully converted to ISO9001 by September 2005. Our quality system certifying agent is the Hong Kong Quality Assurance Agency in Hong Kong. Aoki's products are manufactured to meet the strictest quality control procedures in line with ISO9001 requirements. Our Quality Management Services Section is managed by a group of experience professional with various academic backgrounds, i.e. PhD in Chemistry, and Industrial Engineering.
ISO Certificate
QMS Divisional Organization Chart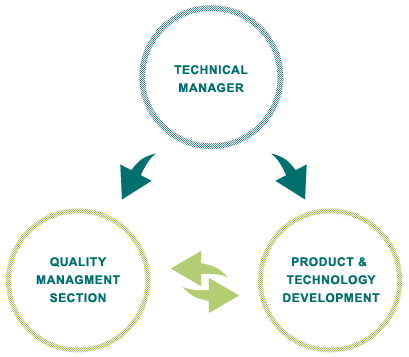 This arrangement would ensure our Quality Management has a system and that is guaranteed & supported with solid science and technology. You may rest assure that right from the start, from taking on your order to the production and dispatch, all business sectors within Aoki are subject to the effective quality management system.
Our QA Laboratories in Tuen Mun and Shenzhen are offering round-the-clock heavy metals element analysis on the following elements. Analyses are
determined by the German-made Arc-Spark OES Metal Element Analyzer.
| | | | | |
| --- | --- | --- | --- | --- |
| Sn | Pb | Sb | Cu | Ag |
| Tin | Lead | Antimony | Copper | Silver |
| Cd | Zn | Bi | As | Al |
| Cadmium | Zinc | Bismuth | Arsenic | Aluminum |
| Fe | In | Ni | P | |
| Iron | Indium | Nickel | Phosphorus | |